Ceramic Disc Classic
+
A choice of reviewers
Designed in about year of 2007 ceramic disc classic is a top shelf model from the range of ceramic anti-vibration feet, perfectly suited for work with all audio components, speakers/monitors and turntables.
With 19 carefully selected high grade materials which each foot is assembled on, sophisticated CNC machining and super hard ceramic balls, ceramic disc classic guarantee the most effective suppression of unwanted resonances and the best listening experiences.
It is also the choice of reviewers of 6moons, Highfidelity, HiFi Choice or Hifistatement and the feet are used by them in their reference audio systems during tests of any audio equipment.
Availability and finish
Sets of 3 feet, packaged in elegant black-satin box with protective foam insert.
Each set has their own unique serial number and certificate of authenticity signed by founder.
Finishing - silver gloss, black gloss, white mat, gold, other on request.


Dimensions
- Diameter of the base/plate 68 [mm]
- Diameter of the top cap 48 [mm]
- Height of the base/plate 46 [mm]
- Height without base/plate 35 [mm]
- Maximum load 0-150 [kg](set of 3 pieces)
Application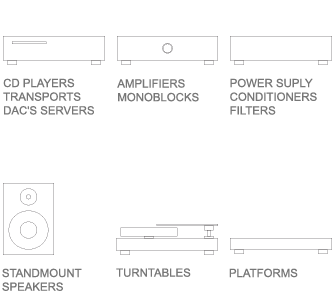 Project URL